(New patients in CA are accepted only on very limited basis)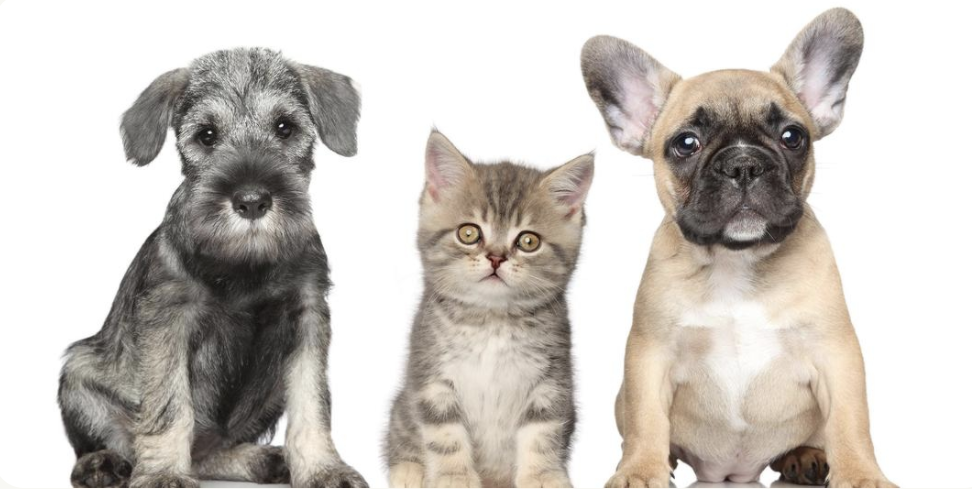 Preventive Care
The annual physical medical examination (aka checkup) is the cornerstone of your pet's health.
A cat or dog that is not seen by a veterinarian for 1 to 2 years is comparable to a human not consulting their doctor for 5 to 10 years. The physical exam is necessary in order to determine your pet's current health status, as well as the best course to maintain or restore health.
​Puppies and kittens should be examined and should receive several rounds of vaccinations. They should also be microchipped, dewormed, and started on preventatives.
Once a pet reaches adulthood, vaccinations need to be given according to a specific schedule, depending on the lifestyle of your pet. Parasite control is essential not only to your pet's health, but also to your and your family's health and happiness. Yearly blood tests for heartworms and tick-borne diseases are highly recommended for dogs.
Regular deworming (for intestinal parasites) and monthly flea/tick/heartworm preventatives are essential to any pet's health.
Cat owners click here for more valuable information
Dog owners click here for more valuable information

Federal law prohibits the dispensation of medications without physical examination of the pet.
Common Pet Health Problems
Many of the more common health problems pets can develop, can be managed in-home: minor ear and eye problems, skin problems such as itching and scratching, superficial wounds, etc.
Chronic Pet Illnesses
Chronic illnesses such as allergies, diabetes, hypothyroidism, hyperthyroidism, kidney disease, etc. can be diagnosed and managed long-term in the house call setting.
Acupuncture
The specific mechanism of how acupuncture works is uncertain. Theories include stimulation of the release of natural chemicals with in the body or stimulation of neuromechanical mechanisms that diminish pain and promote healing. Local micro-trauma from the needle itself may also play a role.
Acupuncture isn't a panacea, but it's another tool to treat ailments and enhance the quality of our pet's lives. Despite the amazing scientific advances in veterinary medicine, one of the most exciting new treatments may be thousands of years old.
More info here

Palliative Care / In-home Hospice Care
Palliative care neither hastens nor postpones death. It is an alternative to prolonged suffering, either in the isolation of intensive care or at home with inadequate treatment. Hospice's emphasis on the dying pet's quality of life gives the family precious quality time and helps the family cope with the approaching death of the pet.
Nursing care provided includes, but is not limited to: providing and maintaining adequate bedding (to prevent bed sores), respiratory care (including nebulization, turning every 4 hours, etc. to prevent aspiration pneumonia), urinary and fecal elimination management (to prevent urinary scald and urinary tract infections), nutritional support, hydration, and physical therapy / mobility therapy (including massage, passive ROM exercises, etc. depending on the situation).
We will work in cooperation with your pet's current veterinarian if there is one already.
More information on Pet Hospice care can be found on the following websites (more available upon request): AHELP Project, Pet Hospice FAQ, Veterinary Hospice Care
In-home Pet Euthanasia
Before veterinary hospitals, at-home pet euthanasia was the norm. With time, we have come around full circle to the human-animal bond and appreciate the value of in-home pet euthanasia. When the time comes, phone or email for further information. You can also go here to read answers to frequently asked questions about in-home pet euthanasia.
More information on pet loss and bereavement can be found on the following websites: Grief Support Center at Rainbow Bridge, Pet Loss and Grief Support Resources
If you choose to retain your pet for at-home burial, there is a more meaningful, organic way with PawPods.
You can create a memorial for your pet at Rainbow Bridge, at APLB's In Memoriam, or at Petloss.com (Petloss.com also has a Facebook page).
Another beautiful way to honor your pet is a portrait by Carol Keyes, a Monterey peninsula artist: carolkeyes@att.net
You can make a tax-deductible donation in honor of your pet to the California Veterinary Medical Foundation.
*** Are you unsure whether your pet needs Palliative Care or is ready to be given his or her wings through Euthanasia? Please schedule a consultation appointment and, as part of a professional assessment, Dr. Magee will provide tools you can use to assess, track, and monitor your pet's quality of life.
Refill Prescription
For your convenience, request a refill of your pet's prescription from our online store here

Policy re: Outside Online Pharmacies
When it comes to your pets' medications (and yours, for that matter), there are concerns about the safety and efficacy of drugs supplied through non-veterinarian channels. (FDA re:online pharmacies). By offering our own online store option, we are trying to stay cost-competitive for your benefit, providing you with an authorized distributor of veterinary pharmaceuticals. As a bonus, your dollars stay in your local economy rather than funding a corporation.
That being said, I will never refuse your right to shop around. I am willing to write prescriptions for your pet's medication(s), assuming s/he is up-to-date with timely examination and necessary testing. (AVMA re: Prescriptions and Pharmacies). You may then submit the original signed prescription(s) to the pharmacy of your choice. I ask for your understanding, as I will not communicate directly (by phone, fax, or email) with any online pharmacy. Also, I am unable to email a prescription for your pets' medications to you, as this would be a violation of State Law.
​Request a refill of your pet's prescription here
Emergencies
Take your pet to an Emergency Veterinary Care Provider in case of:
major trauma (hit by car, kicked by horse, hunting accident, etc.)
uncontrollable bleeding
breathing difficulties (or panting cats)
loss of consciousness, fainting, convulsions, seizures
severe vomiting or diarrhea, not eating for more than a day
witnessed / suspected snake, spider or insect bite
witnessed / suspected poison ingestion (snail bait, rat bait, antifreeze, poisonous plants etc)
difficulty giving birth.

We do not provide emergency services. We hope that you will not need them, but here are some resources in case your pets do need Emergency Services (they are open 24/7/365):
More Information
Difficulties (aggressive or feral animals)
Dr. Magee cannot provide house calls for aggressive or feral animals due to the increased risk of injury from these animals in their own territory. If you have a yard dog that bites first and asks questions later, or an outdoor cat that does not accept human contact, Dr. Magee will not be able to help you.
Surgery / Dentistry / Imaging (X-rays, ultrasound, etc.)
We do not offer these services.
Grooming
We do not offer grooming services.